Our most popular mattresses & bed bases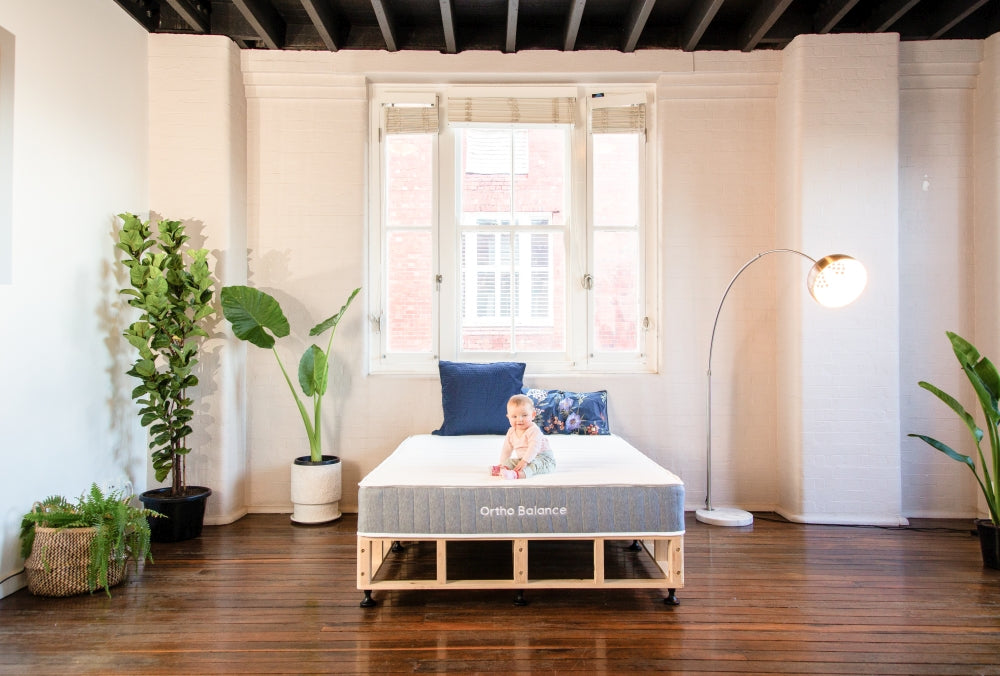 Who doesn't love sleep? Maybe if you could ask a baby or get a response from a toddler, they'd likely deny any love for sleep! But any parent or grandparent knows, babies and toddlers NEED sleep. And adults, like little people need sleep too. Once we're past the teenage years where sleeping in is the accepted norm, as adults we look forward to our sleep even if our busy schedules don't allow for those long sleeps ins we once enjoyed as teens!
You've likely heard that most adults sleep for one third of their adult life. (For any mathematicians who wish to check the calculations: the average night's recommended sleep is eight hours (one third of a day.) If you live for example, say, 75 years, that's 25 years of your life you spend asleep, or 9,125 days!

For the purposes of this article, let's assume you leave home by age 21, that leaves you with potentially 6,570 sleeping days. For the significant amount of your lifetime that you're asleep, you want to be sleeping on a decent mattress!
What constitutes a decent mattress?
Mobile Mattress are a family owned and operated Australian sleep company manufacturing mattresses and bed bases since 2013. After nine years in the business, they have picked up a thing or two about what their customers like in a mattress.

To help you make the best decision for all those future hours you're going to spend asleep, let's look at Mobile Mattress three most popular mattresses and the features that put them there.
The Optimal Support is Mobile Mattresses' top seller
Why?
The Optimal Support mattress is economical on price without compromising on quality.
The Optimal Support is referred as the "goldilocks" of the Mobile Mattress range. Because it is not too expensive, and the comfort level is just 'right' for most people.

Sleepers of all kinds will find adequate support and Italian designed gen-knit cooling fabric which allows for increased airflow. The top comfort layer, made from Viscoelastic Memory foam (with no nasty chemicals) provides instant relief shifting weight off hips and shoulders and distributing body weight more evenly. The five-zone pocket spring system helps reduce partner disturbance.
Customer testimonial
"I'm so happy we took the plunge with an Optimal Support mobile mattress. Not only was the mattress delivered in a couple of days, it's also a great bed. I'm sleeping soundly and not waking up with aches and pains. I admit I was worried thinking I'd have to go to a furniture shop to look for a mattress, but our Optimal Support mattress is great, and husband is sleeping well and happy too which is what matters most! Happy spouse, happy house!"

- Jojo
The Ortho Balance is our next best seller thanks to its price and comfort. This mattress is classed medium to firm, with a breathable top layer to help keep you cooler on those warmer nights. The three-zone layered pocket spring system provides firm support for shoulders, lower back, and hips. The luxury peel foam delivers long-lasting comfort.
The medium to firm mattress will suit those who sleep mostly on their back.
Customer Testimonial
"Thank you for a great mattress, exactly as described. Well worth purchasing."
- Helen S.
This 'cloud feel' mattress is our top of the range and the mattress that every Mobile Mattress employee sleeps on. Made up of six layers of luxurious material and memory foam that contours to every curve of your body, the Oasis Gel mattress will make you feel like you are sleeping on a cloud. The Tencel quilt fabric is super plush, and the gel-infused foam is 30% cooler than traditional foam. The seven-zone pocket spring system has rows of coils running along the length of the mattress, so any motion from your partner is passed down the mattress. Reviews for the Oasis Gel mattress are exceptional, because with all the outstanding features, the price is very competitive. This mattress sells itself due to word of mouth as well. Customers who sleep on this mattress tell their neighbours, friends, mother's groups, grandmothers about it. Don't just take our word for it, pop into our bed showroom at Capalaba and try it out for yourself.
Customer Testimonial
"This will be our fifth purchase as a family. My wife is very picky when it comes to mattresses, and I have a bad back and neck. We chose the best model and weren't disappointed. It's been two weeks since our mattress arrived and I'm now enjoying painless and comfortable sleeps. Thanks again Mobile Mattress team."
- Mitch H.
Mobile Mattress Top Three Bed Bases
The strong and sturdy Porto Bed Base is our most popular seller and it's been through rigorous testing for durability and longevity. The solid wood frame is wrapped in high-density foam, and you can choose from a variety of contemporary colours with the custom-made fabric. Because the Porto Bed base comes in a box, it can be delivered interstate and is quick and easy to assemble.
Customer Testimonial
"Fantastic! You exceeded our expectations. Service and product are awesome. Easy to assemble and looks fantastic. The slip fits perfectly."
- Mary O.
The Soho bed base is a unique modern design using classic timber and premium upholstery. The bed base's clean lines are complimented by the angled oak legs, giving it a distinctly Scandi feel. This bed base also comes in a box, so it can be delivered interstate. Like all our bed bases its easy to assemble with an Allen-key (supplied.)
Customer Testimonial
"The Soho bed base is high quality without the price tag! It's exactly what I wanted sturdy, well- made and looks good. I didn't want to get anything low quality or with an unnecessary high price tag to assure quality."
- Yukthi K.
The Scandi bed base is also popular and is very similar to the Porto bed base, but the raw timber finish gives it a minimalist Scandinavian look. The simple frame made from solid timber will last for many years. The sturdy slats provide a firm foundation guaranteed to provide many nights of comfortable sleep.
Customer Testimonial
"I love my bed! Easy to assemble, great height from the ground. It looks amazing, I couldn't be happier with my bed base."
- Melody S.
FAQ
Buying a new mattress online or in-store can be intimidating. At Mobile Mattress our goal is to inform and educate to support you in making the best decision for your needs and budget. To help you make a more informed decision, we have collated answers to some of the most frequently asked questions we receive at Mobile Mattress.
https://www.mobilemattress.com.au/pages/faq