Faq
Frequently Asked Questions - Buying a new mattress online or in-store can be a little intimidating at first, as we strive to inform and educate on the sleeping benefits we've collected a bunch of answers to some of the most commonly asked questions.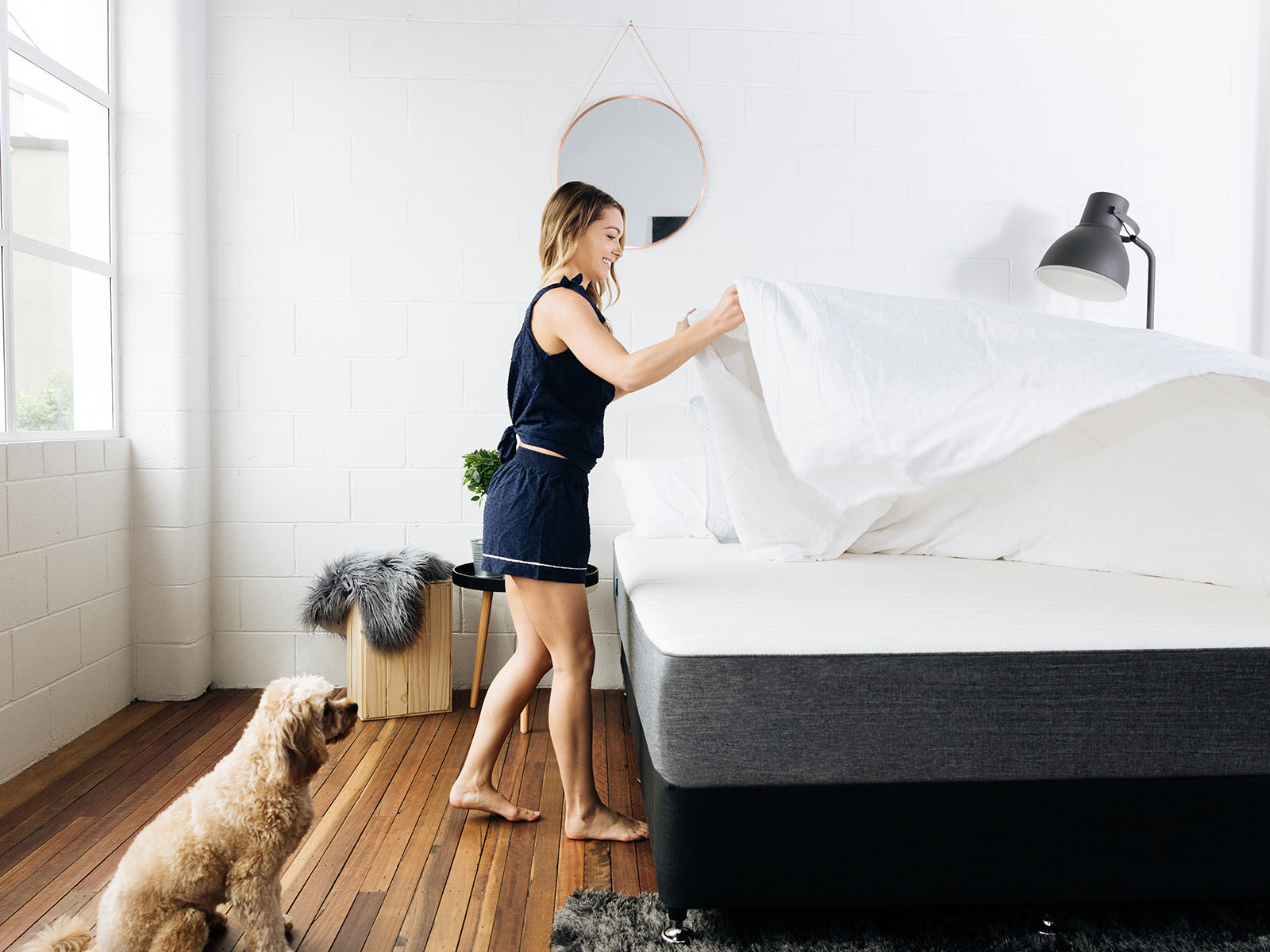 Q /- Who is Mobile Mattress?
A /-Mobile Mattress is a 100% Australian owned and operated, online, and retail business based on Brisbane's bayside at Capalaba in Queensland.
Q /- What is the most comfortable mattress?
A /- Finding a mattress that suits your comfort level can be quite tricky. Comfort is quite subjective but understanding mattress firmness and the differences in mattress types will help you narrow the field when it comes to selecting a comfortable mattress.
To make it easier we have written a guide to selecting a mattress, which includes how to pick the right firmness for you.
Q /- When should my mattress be replaced?
A /- A general rule of thumb is to evaluate your mattress for replacement every five to seven years. If you discover sags or lumps, it's time for a new one. A mattress that is ready to be replaced can quickly become detrimental to getting a good night's rest.
Q /- Why buy direct from Mobile Mattress?
A /- Direct from the makers: When you purchase bedding products from Mobile Mattress you will receive outstanding customer service, quality products and exceptional value for money. At Mobile Mattress we specialise in everything bedding, we only sell beds, mattresses, ensembles and bedding products. We DO NOT sell televisions, computers, lounges, white goods, blenders, toasters or coffee machines, nor do we have huge once-off sales. At Mobile Mattress we will save you time and money EVERYDAY.
Q /- Is a firm mattress better for people with a bad back?
A /- Not necessarily. We hate to get technical, but firmness isn't really the issue. What everyone needs is a bed that's most importantly is supportive. The feel of a mattress, whether firm, medium or soft, is a matter of personal preference (and pressure relief). Ideally, you should be comfortable and supported, whether you're on your side, back or stomach. If you're not, it's time for a new mattress. A good rule of thumb: whether you're standing or lying down, your posture should be the same.
Q /- Why should I pay full price when I don't have to?
A /- It is simple, there are NO middlemen. Mobile Mattress does not belong to a franchise brand so you don't pay franchise fees nor do you contribute towards inflated showroom rents…so when you purchase from Mobile Mattress you will know that the quality of your mattress/bed will suit you and your family's needs and budget.
Q /- Are Costco mattresses good?
A /- Costco is fast becoming very popular among the savvy Australian consumer because they promise lower prices for members on common good. That being said not everything purchased at Costco can represent a great deal. Even though things like toilet paper, paper towels and bulk food items are better to buy in store, when it comes to mattresses, there is little known truth. Buying comparable products from a retailer that specifically deals in sleep products may be cheaper. Although this isn't the case for all products this is the case for going direct to the manufacturer, like Mobile Mattress, or haggling with local retailers, like Snooze or Forty Winks, who are willing to negotiate on price.
Even though Costco often licences their own designs for their members, a second hidden truth is the Costco selection may not always include the right mattress for you. Part of the reason for this is that Costco is focused on the lowest common denominator (price) when it selects its products and not really on the unique individual comfort you may actually need.
Q /- How long does it take to get used to a new mattress?
Adjustment Period: As with a new pair of shoes, after so many uncomfortable years on your old bed it may take time for your body to get accustomed to your new mattress. This period of adjustment varies, from as brief as one week, but normally takes 2 to 4 weeks to get fully used to your new mattress as your muscles and joints recondition themselves. 

Body Impressions: The comfort layers of a mattress naturally conforms to your body and often results in impressions. These body impressions are normal and therefore do not mean the mattress is defective.

*To prevent excess body impressions you must rotate your mattress – as more than 90% of mattresses are "one-sided"." For more information regarding the 60 Night Worry-Free Guarantee please contact Mobile Mattress.
A "body impression" occurs when the comfort layers of a mattress naturally settle and conform to an individual unique body. 
"Sagging" is often caused by an improper foundation or frame. 
Q /- I received my rolled mattress and it's not as described?
A /- Upon receiving your new mattress you can be assured that your product is hygienically sealed using our high tech vacuum packaging technology i.e box, for easy handling and safe transport. It will easily expand in minutes after unpacking and restore to its usable shape, making it asleep heaven within minutes. To reach full thickness and reduce all signs of rolled impression, please allow up to 48hrs all the foams, quiltings, and materials to expand 100%. Before using for the first time its normal for new mattresses to feel different to your previous mattress (too firm, etc) so you should allow at least one month for your body to conform to the mattress and the mattress adjust to your body. New manufactured materials also have their own particular manufacturing odour, like a new car has that new car smell. Please be assured we are Certi-Pur Certified and all items are thoroughly tested before leaving our warehouse for any harmful substances. If you come across this slight odour we recommend to air the mattress to help eliminate this. Please note: When measuring the height of the mattress, please allow up to 48hrs for all comfort layers and materials to expand to full size. Please also ensure you are measuring from the bottom surface to the top (quilting) surface with a piece of paper placed on top of the mattress. Due to rolled compression, please allow for 1-2cm rebound variance either way for the product to expand.
Q /- Should a mattress be turned or rotated regularly?
A /- Follow the manufacturer's directions on this one. Most mattresses these days are one-sided due to placing high-density foams on the primary surface so flipping is unnecessary. Most new mattresses should be rotated every three months to prolong their lives. Typically, but never flip it.
Q /- When can I expect my product to arrive?
A /- At Mobile Mattress we process every order with 'Express in Mind' and offer same/next day dispatch on most items. Estimated time frames are as follows:
Brisbane Region: One (1) to Four (4) business days after dispatch
Queensland: Five (5) to Seven (7) business days after dispatch
Interstate: Five (5) to Seven (7) business days after dispatch
Please note- Your item will be dispatched same/next working day and once dispatched you will receive tracking information in which you can go online via the courier company's website and track the item. All delivery dates are estimates only.
Q /- What if the delivery arrives and I am not at home?
A /- No Problem, Mobile Mattress work within your guidelines, If you are not at home when we arrive, all mattresses and bedding products can be stored in an area of choice, securely placed at the address. We need to ensure that the authorised owner of that product understand we are not held responsible for any theft or damaged items after the item has been delivered.
Q /- Can I pick up my product?
A /- Yes, you may Click n' Collect, if you prefer to 'pick up' your product from our warehouse, All we request is that you inform one of our Team Members of a date and time that suits you.
Q /- What do I do with my old mattress? Can you take my old mattress away?
 A /-  Unfortuantely we do not remove old mattresses, due to our free delivery and the way that our mattresses are delivered. However, we can recommended Air Tasker or 1800 i've got junk.